THE HALCALI PIMP POST
Meet Halcali,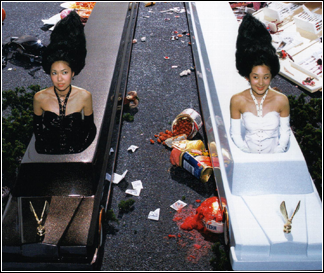 wiki
Halcali are a Japanese ~hip hop~ duo. The name Halcali comes from the combination of the names of the two members. The stage names of HALCA (はるか) and YUCALI (ゆかり) are combined to form the collective name Halcali (ハルカリ).
Rip Slyme
picked Halcali from talent competitions from around Meguru (their hometown) area in search of creating a new manufactured group.
OFF TOPIC: I fucking love Rip Slyme. I will upload some of their music at a later date! You may also be interested in knowing that Ilmari and Ryo-Z (of Rip Slyme) are also members of Teriyaki Boyz with WISE (who is an effin sexy beast) and Verbal (m-flo). Isn't that amazing?
Halcali's family names are not publicized. However, their given names are Yukari and Haruka.
References made in Halcali songs:

Multiple references to Al Pacino.

Reference to Eminem in Otsukare Summer. "...I'm asleep; an Eminem song is playing next to you"

Reference to Public Enemy in Marching March. "...iwanai-iwanai don't believe the hype"

Reference to Dragon Ball Z in Giri-Giri Surfrider. "...burnin' hot summer Super Saiya (Saiyan)"

Reference to Slick Rick in Continued. "...Don't cry, dry your eyes..."
PVS:
Tandem / タンデム

MU

It's PARTY TIME



A lot of people seem to hate this song. w/e bitches, I think it is marvelous.

Strawberry Chips ~Tanaka Chigai Mix~



SAMPLES:
Tip Taps Tip
Otsukare Summer
Sister Ship
Tandem
HIGHLY RECOMMENDED
Between the two of us we have uploaded two of their albums.
HALCALI BACON

1. intro.HALCALI BACON
2. タンデム (Tandem)
3. ギリギリ・サーフライダー (GiriGiri Surf Rider)
4. 嗚呼ハルカリセンセーション (Halcali Sensation)
5. おつかれSUMMER (Otsukare Summer)
6. ハルカリズム "CANDY HEARTS" (Halcali Rhythm "Candy Hearts")
7. Conversation of a mystery
8. Peek-A-Boo
9. Hello, Hello, Alone
10. スタイリースタイリー (Style Style)
11. エレクトリック先生 (Electric Sensei)
12. 続・真夜中のグランド (Tsuzuki Mayonaka no Grand)
音楽ノススメ / Ongaku no Susume

1. INTRODUCTION
2. フワフワ・ブランニュー (Fuwa Fuwa Brand New)
3. マーチングマーチ (Marching March)
4. ストロベリーチップス (Strawberry Chips)
5. 晴れ時ドキ (Hare Doki Doki)
6. OBOROGE COPY VIEW
7. HISTORY
8. 芝生 feat.谷川俊太郎 (Shibafu feat. Tanikawa Juntaro)
9. 若草DANCE feat.宇多丸 (RHYMESTER) (Wakakusa Dance feat. Uta Maru)
10. BABY BLUE!
11. 伝説の2人 (Densetsu no Futari)
12. コンティニュード (Continued)